A sense of childlike wonder. A love of words and rhyme. A smattering of smart aleck. A soupcon of time. Those are the ingredients that help me write and illustrate books for kids of all ages.
A lover of children's literature, my influences include the works of Sandra Boynton and Theodor Geisel, plus the artwork of my small child.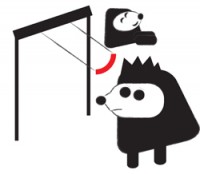 My latest book, Mommy is a Worrywart, is now available at Independent Bookstores, the Santa Cruz Children's Museum of Discovery and online at Amazon, Barnes and Noble and others.
My first book, All Hallow's ABC won a bronze medal at the 2013 Moonbeam Children's Book Awards! It is available at Childish in Santa Cruz, Mr. Mopps Children's Book Store in Berkeley, Little Luma in Petaluma, Independent Bookstores, Amazon, Barnes and Noble, Tomely, and Kobo. All Hallow's ABC is published by Daring Ink Press.

Watch the trailer for All Hallow's ABC: